Montcortès Lake
This Karstic lake, one of three in Catalonia, has a single basin and a maximum depth of 30 m. The water inlet that feeds it is underground. The lake is the scene of local legends.
It is said that inhabitants of this area refused to give a piece of bread to God Our Lord himself when, disguised as a beggar, he asked for alms. In punishment, God flooded the old village, drowning all its inhabitants. Only a woman who took the camouflaged beggar in was saved from the disaster.
The lake with view in the background of the village of Montcortès.
Northern shore of the lake in spring.
South-west shore of the lake in autumn, in the mist.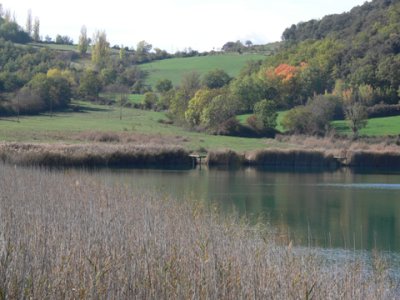 Diversity of arboreal vegetation among the meadows. Two walkways allow the water to be reached through the dense reeds.