Road to Arboló
Along the left-hand bank of the Noguera Pallaresa, a road runs upstream from Gerri to Arboló.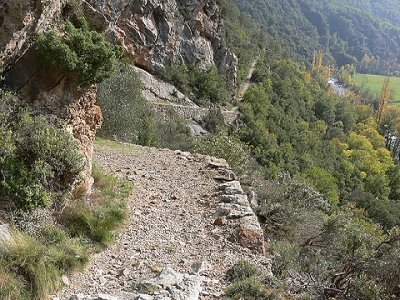 At different points along it, all the types of rock used for the construction of the hermitage of Arboló can be seen.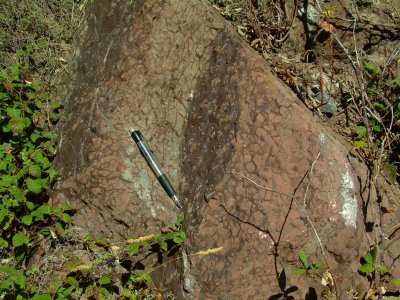 A variety of the nodular limestone is "griotte" limestone. Its characteristic red colour is due to its content in manganese and iron. The adjective "griotte" refers to the name of a variety of cherry.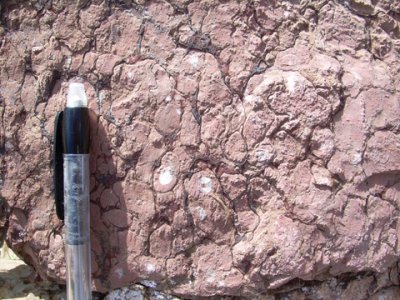 In this detailed view of "griotte" limestone, the nodules formed often by fossils of goniatites, Cephalopoda Ammonoidea from the Late Devonian can be easily seen.
The stones are rocks formed from sand, with grains of quartz and small quantities of mica, deposited by the rivers during the Triassic, some 250 Mya. They are the typical stones used as grindstones. The reddish colouring is due to the presence of iron oxides. The stratification and internal laminations mean that when they break they form slabs.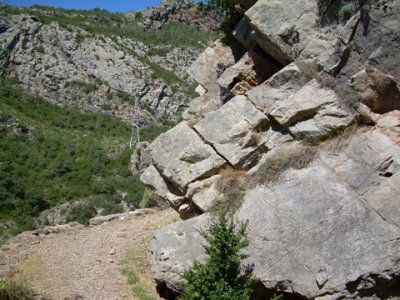 The grey limestone originates from calcium carbonate muds that were deposited on shallow marine platforms during the middle Triassic, some 235 Mya. As they are so well stratified, when they break they form slabs of different thicknesses that are used in all kinds of constructions.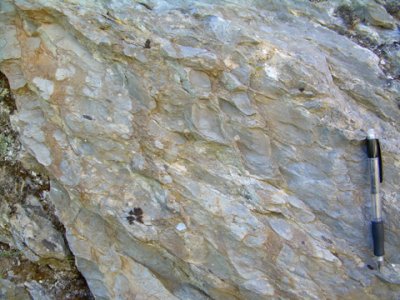 The grey nodular limestones are carbonatic rocks of fine or medium grain, in which the stratification is not very well defined. The carbonatic muds from which they were formed sedimented on marine platforms during the Devonian (359 to 416 Mya.).