Mapping hate crimes
On December 1st we presented crimenesdeodio.info, a memory of 25 years of oblivion. It's the result of a year long research into deaths caused by hate crimes in Spain. The websites lists 86 cases with a total amount of 88 homicides categorized as Homophobia, Ideological hatred, Islamophobia, Racism and xenophobia, Violence ultra football, Antisemitism, Misogyny, etc.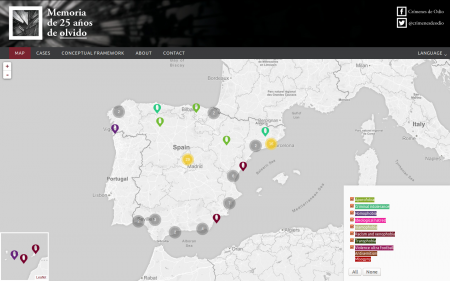 We run on WordPress and developed three plugins and a child theme which are available as free software. So it should be easy to set up your own website for mapping hate crimes or similar geolocated registers.
The base plugin creates a custom post type named Hate Crime with taxonomies like type, sentence and delict and fields like date, address, judicial body, sentence description, age of aggressor, sources, etc. Fields can easily be adapted to your needs by modifying hatecrimes.php file.
The map plugin offers a leaflet map to show crimes on a map. For an example have a look at our embedded map.
The table plugin allows you to show a list of all cases and offers search and sort options to easily access the registers. For an example have a look at our embedded list of cases.
Additionally there is a child theme with templates for showing single cases, the map and a list of all cases. Also it offers an export template to save all registers to a json file. This json file is used as data source by the hatecrime plugins. This approach was elected because cases change not every day and data export is more efficiently done manually than every time the website is accessed.
All software is multilingual and available in Spanish, Catalan and English under GPL.
Tags: crímenes de odio, GPL, hate crimes, javascript, leafletjs, wordpress